Bootein
Charcoal & White Cat Cave | Pet Bed | PREMIUM
The Cat Cave is the first 100% eco-friendly pet bed made for a good cause that looks beautiful and provides endless fun for the whole family!

Each Cat Cave is hand felted with love from the highest quality soft merino wool to ensure that your pet is happy and healthy.
After a trip to Nepal where we discovered women in need who could hand felt just about anything. We asked if they could bring our vision for an eco-friendly cat bed to life. 
Sure enough; the cat cave was born. Not only are our caves beautiful and super durable. They make cats feel safe and secure from their unusual design.
Each cat cave fits all pets up to about 23lbs.
Easy to clean, hand wash in lukewarm water, press out any excess water and re-shape while wet, then leave to dry naturally.
Merino wool is not only soft and flexible, it offers natural properties to keep your pets cleaner and smelling better.
Cat caves provide an innate need to your cats; a safe place of their own that calms their anxiety and improves their sleep.
Every purchase supports women in poor communities in Nepal. We pay 200% the average. You make a difference with your purchase!

Measurements:
Standard Large
Width ~ 19 inches
Height ~ 10-11 inches
Hole ~ 7-8 inches
Please note each Cat Cave is handmade so measurements may vary slightly. The wool is 100% naturally dyed and left to dry outside, therefore there may be slight variations to colour, size and shape as a result. The brightness on your device will also affect the colour, therefore we cannot accept refunds on orders with minor differences.
Shipping Update: in stock and currently 2-8 days.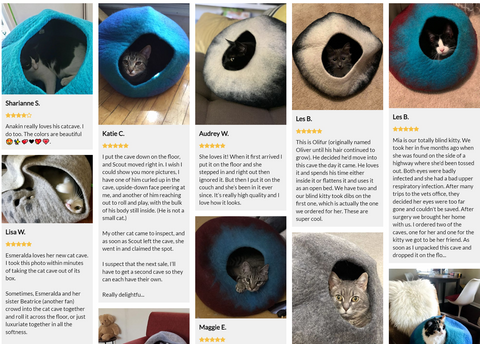 bootein // A skincare range designed with simplicity in mind to detoxify your skin from the outside, in.
Simple ingredients. Simple steps. Real results.
Based in Toronto, Canada.